Skip to Content
Professional Fur Cleaning in Chicago, IL
Owning a fur coat or other fur accessory is quite fun, but it requires regular maintenance and care. In order to ensure that your fur garments stay in the best condition possible, you should have them cleaned at least once a year, even if you do not wear them often. Andriana Furs helps you maintain your fur clothing with our professional fur cleaning services in Chicago, IL. Oftentimes, purchasing fur items is an investment. This means that you will want to care for and protect your investment for as long as possible. Fur garments that are properly cared for can last a lifetime. Our team of expert furriers follows a well-thought-out and thorough cleaning process to ensure that your fur items are protected throughout the process and properly cared for.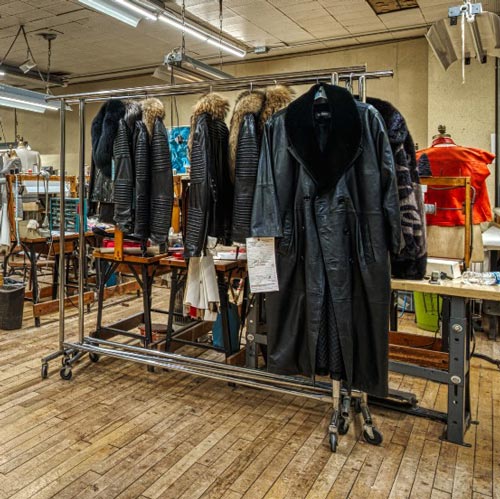 How Does the Cleaning Process Work?
When you bring your fur wear to us, we will start by evaluating the item's status while observing any stains, rips, or tears. We will then hand-clean the lining with specific fur-cleaning products while on the lookout for any spots, stains, and odors that may be present. After the lining has been cared for, your fur wear will be placed in a drum that holds sawdust and a fur-cleaning solution. The sawdust will draw out any dirt, dust, and oil that the item has. Next, the fur item is vacuumed and hand-steamed to remove the sawdust and any remaining residue. Electricity is then used to separate, lift, and place the hair in the right direction. The final stage of cleaning involves restoring the good oils by conditioning the fur product.
Why Should I Have My Fur Wear Cleaned?
Authentic fur items can be quite pricey, so you will want to ensure that they stay in the best shape possible. Every year you should have your fur wear professionally cleaned by our furrier experts. Regular fur cleaning will remove dirt, salt, dust, stains, and infestations that alter the way your fur looks and damages the garment. Additionally, regular cleaning will prevent your fur pelt from drying out and rotting. When you have your fur wear cleaned regularly, it will stay shiny, clean, and in the best shape possible.
Enjoy Clean Fur Every Day
Andriana Furs knows how important it is to maintain and keep your fur garments clean. That is why we offer fur cleaning services in Chicago, IL. Keeping up with your fur items is made easy when you choose us for the job. Our team of furrier experts has spent decades cleaning and caring for various fur clothing items. We take the time to ensure that each fur item we come into contact with leaves looking and feeling as good as new. Visit us today to have your fur wear cleaned and restored.
Schedule a Visit to Our Showroom